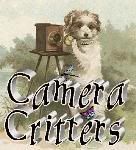 This weeks Camera Critter pics are Koalas taken at
Australia Zoo
, the home of the late Steve Irwin.
The koala is Australia's favourite marsupial. It gets it name from an Aboriginal word meaning 'no drink'. 90% of its hydration comes from it's diet of Eucalyptus leave (or gum leaves). It only drinks when ill or when leaves are too dry eg. drought. There are hundreds of varieties of Eucalypt trees but the koala preferrs to only eat from about 10 varieties. Due to their poor low-energy diet koalas have a low-energy lifestyle and sleep for up to 20 hours a day, much like a cat.
A baby koala (joey) will remain in their mothers pouch until they are about 22 weeks old when they will take their first look at the outside world. Between 22-36 weeks they spend more and more time out of the pouch until they can no longer fit back in. They are weaned at about 12 months old and become totally independant at about 18 months.